Graduate careers at Amazon
What's in it for me?
At Amazon, we recognise that our graduates are the future leaders of the business. With bright minds, fresh ideas and brand new approaches to the way things are done, they will help to make the customer experience better than ever before. Which is why we are hiring and developing more and more graduates as we continue to grow.
Take on a real job in Amazon Operations and Customer Service and what can you expect?
Responsibility and autonomy right from the start.
Mentoring and support – lots of it, including a dedicated mentor for the first two years.
Coaching and workshops to boost your development.
Thorough onboarding to help you settle in fast and make your mark quickly.
Regular reviews of your performance and help to plan your next career move.
Expert colleagues to work alongside and learn from.
No limits on your future – we see you as a potential leader of the business and we'll encourage you to experience many sides of it.
To be always moving forward in an environment that's doing the same.
The chance to relentlessly improve the experience for our customers.
Why Operations and Customer Service?
The Operations and Customer Service network is critical to Amazon's success. Every day we face unique supply chain challenges that involve millions of products and millions of customers. You'll have all the autonomy you need to innovate on behalf of our customers and help us deliver what we promise. If you're forward-thinking, well-organised and full of initiative, you'll be creating the future of online retail.

Where you could work
Human Resources, Logistics, Finance, IT, Customer Service (CS), Operations, Engineering. We hire bright graduates into them all. Some roles and areas, however, are particularly key:
Area Managers
Finance
HR
IT
CS Team Lead
CS Workflow Analysts
Supply Chain/Transportation
Engineering.
Although you'll join us in a permanent role, it's not the only one we'd like you to have at Amazon. We encourage internal mobility and career development. So you can expect to take on exciting new challenges in other functions, move into a more senior management position or even work in another of our locations.
What we look for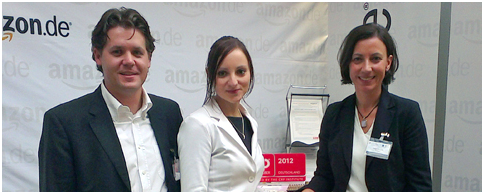 At Amazon, we treat every day like our first. A day to come up with fresh ideas, challenge convention and make more good things happen for our customers. To be part of that, you'll need some very special qualities.
Leadership – to inspire others to achieve great things.
Problem solving – to tackle challenges head on.
Innovation and creativity – to constantly improve and make things better.
Ultimately, we hire graduates on potential, not experience. The potential not just to handle the pace at which we work, but to thrive in it; to collaborate effectively with a host of different specialists across our Fulfilment Centres; and, above all, to become as obsessive about customers as we are.