Whirlpool: Where moments matter
ABOUT US
With approximately 26,000 employees, a sales presence in more than 30 countries in Europe, Middle East and Africa and manufacturing sites in nine countries, Whirlpool EMEA is an operating segment of Whirlpool Corporation.
Whirlpool Corporation is the number one major appliance manufacturer in the world, with approximately $21 billion in annual sales, 97,000 employees and 70 manufacturing and technology research centers throughout the world in 2015.
The company markets Whirlpool, KitchenAid, Maytag, Consul, Brastemp, Amana, Bauknecht, Jenn-Air, Hotpoint, Indesit and other major brand names in more than 170 countries. Whirlpool Corp.'s European Operations Center is located in Comerio (VA), Italy.
"In everything we do, we are guided by our enduring values of Respect, Integrity, Diversity and Inclusion, Teamwork and a Spirit of Winning."
Do you want to discover more about us? Visit our Careers Website!
KICK START YOUR CAREER IN WHIRLPOOL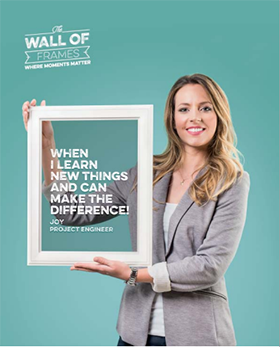 You are still studying or you have just finished your studies and want to gain hands-on experience and develop yourself within world's leading home appliances company?
Although the possibilities and regulations may vary from country to country, Whirlpool offers internship opportunities in all our business areas. The projects are based on 6 months assignments and are available in many of our offices and factories.
You will get a supervisor who supports your integration in the company, provides you feedback and coaches your personal and professional development. At the end of the assignment we will assess your contribution and evaluate potential job opportunities.
Are you interested in internship opportunities? Visit our Careers Website!
FAST TRACK MANAGEMENT PROGRAM
Whirlpool's Fast Track Management Program is an international graduate program aimed to develop future
leaders of the company. We offer a 30 months accelerated Leadership Program where you experience
cross-functional and cross-country rotations within Whirlpool's European locations.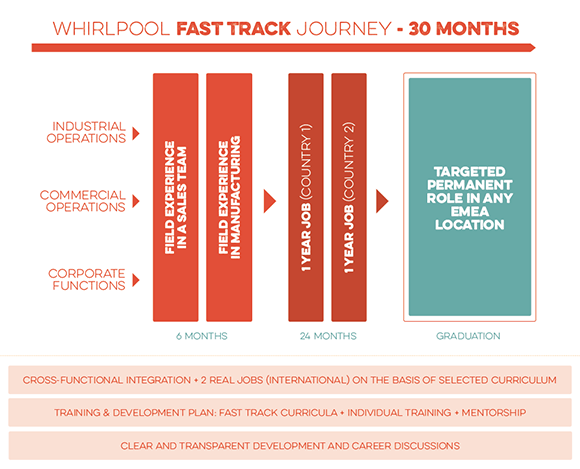 In each job rotation, you can expect to gain unmatched experience, exposure to senior leaders, a personal training and development plan and formal mentoring. You have exposure to challenging projects that prepare you to join a permanent position in the function that best fits your background, interests and career expectations.
In Whirlpool Moments Matter because they are "made by people". They are an occasion not only to grow professionally, but also personally.
Are you interested in our Fast Track Management Program? Visit our Career Website!
Stay up to date, follow us on Linkedin!