Find the right candidate at AL Lavoro Digital Edition
AL Lavoro is the official AlmaLaurea's jobfair that aimes to match graduates and employers of the most important national and international companies.
AL Lavoro offers to participating company the opportunity to do: 
 
Campus Recruiting:
through the platform M.I.T.O. (Matching Italian Talent Organizer) is possible to:
 

- send a personalized invitation to selected graduates before the Career Day (Smart Profile);
- talk to invited graduates (Smart Profile) in a dedicated and reserved area;
- download the most interesting graduates' curriculum vitae at the end of the Career Day.
 
Employer Branding:
Human Resources managers can meet the most motivated and talented Italian and foreign graduates who match with company's employer brand promise.
AlmaLaurea facts & figures:
78 Universities represented
3.505.000 of curriculum vitae
270.000 new university graduates every year (91% of the national total amount)
oltre 77,000 foreign university graduates curriculum vitae
oltre 6,000 new foreign graduates every year
AL Lavoro Digital Edition 2021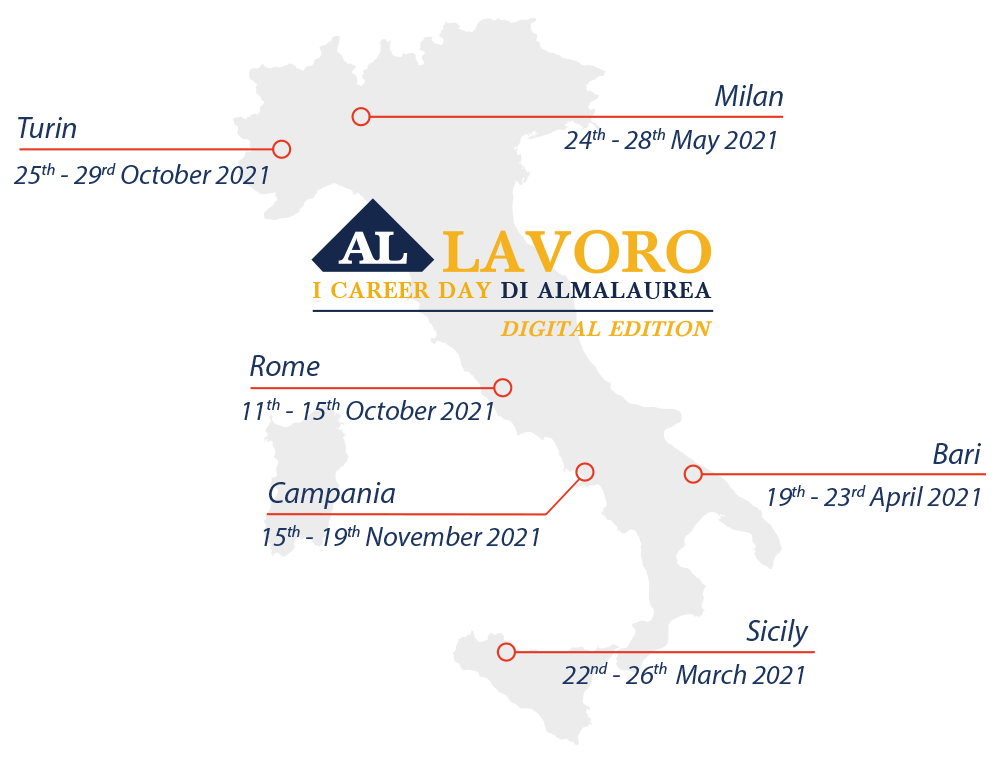 More Details:
AL LAVORO SICILY
22nd - 26th  March 2021 - Digital Event

 

AL LAVORO BARI
19th - 23rd April 2021 - Digital Event

 

AL LAVORO MILAN
24th - 28th May 2021 - Digital Event

 

AL LAVORO ROME
11th - 15th October 2021 - Digital Event

 

AL LAVORO TURIN
25th - 29rd October 2021 - Digital Event

 

AL LAVORO CAMPANIA
15th - 19th November 2021 - Digital Event
---
For further details:
n. verde 800.242119 | email eventi@almalaurea.it