"Soft Skills" and their role in employability
New perspectives in teaching, assessment and certification. International Workshop Bertinoro, Wednesday 18 and Thursday 19 November 2015, ADRIA – HUB Project.
28 July 2015
Institutions of higher education across Europe are building a new relationship between them and the labour world, also to increase the employability of graduate students. This implies a commitment for universities to redesign their curricula through the analysis and re-interpretation of the enterprise demand. The most pressing demand seems to be the prepation of people regarding "soft skills" to be used in work contexts.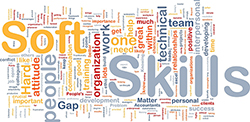 For several years the European Union, in parallel with the development of a legal framework, has supported some projects (eg., Tuning and Modes) which tried to identify methodologies and best practices for the promotion of "soft skills" in university programs.
In this context, AlmaLaurea together with the Institute of Advanced Studies and the Departments of Education Studies "G. M. Bertin", Psychology and Management of the University of Bologna propose, within the european project Adria Hub, coordinated by the University of Bologna, the seminar that will take stock of the progress of this process of innovation of university curricula, highlighting the outstanding problems and being an important moment of discussion between all the involved actors: institutional decision-makers, researchers, teachers and employers.
The aims are:
to describe a state of the art concerning Soft Skills
to possibly identify new methods and tools for the Soft Skills determination and certification for education and employability purposes
to possibly identify lines of development for the political and institutional decision-makers and the researchers considering the enterprises needs;
to define and discuss the transversal competences fundamental to manage a project and to organize team activities, in particular between international collaborators and partners.
Soft Skills are a relevant cross disciplinary theme. This workshop will collect several  prestigious international and national experts along with scholars of excellence who are studying and analying transversal competences, who are looking for a bridge between research, teaching and employment and who are fostering and developing these competences within the enterprises. The workshop finalization is then to provide a complete panorama of Soft Skills from their definition to their expression and application in the labour world.
In particular, the workshop will help identify possible tools to be integrated in the Alma Laurea platform to evaluate candidate's Soft Skills in order to make the matching between graduates and enterprises easier and more effective. All the Adria Hub partners attending the event will acquire significant and useful information regarding transversal competences important in any job, in order to improve their educational programmes and foster the development of these kind of skills in their students and/or employees.
International Workshop Bertinoro
Wednesday 18 - Thursday 19 November 2015
ADRIA – HUB
"Soft Skills" and their role in employability.
New perspectives in teaching, assessment and certification
PROGRAMME
Wednesday 18 November 2015
09:30 - 10:00
Registration
10:00 - 10:40
Institutional greetings
Francesco Ubertini, The Honourable Rector of the University of Bologna
Nevio Zaccarelli, Mayor of Bertinoro
Director of the Institute of Advanced Studies, University of Bologna
Marina Timoteo, Director of AlmaLaurea
Giuseppe Padula, Director of Innovation, University of the Republic of San Marino
Guido Sarchielli, President of CeUB
Introduction
10:40 - 10:50
Cristiano Fragassa, University of Bologna, Italy
The Adria Hub project
10:50 - 11:10
Barbara Cimatti, Institute of Advanced Studies, University of Bologna, Italy
The Soft Skills action
Workshop
11:00 - 11.50
Key Note Speech        
Sydney Engelberg, Hebrew University Jerusalem, Israel
A Developmental Perspective on Soft Skills
A recent study found that 46% of newly-hired employees fail within 18 months. Only 19% achieve unequivocal success. Contrary to popular belief, technical skills are not the primary reason why new hires fail; instead, poor interpersonal skills dominate the list. Understanding how to recruit, train, and retain employees that display these skills can result in better decisions, better engagement, better execution, and ultimately better results. A Developmental Perspective on "Soft Skills" and Employability provides a model for understanding and working with this issue.
11:50 - 13:00
Session 1 - DEFINITION AND SELECTION OF SOFT SKILLS
Chair Giunio Luzzatto, University of Genova
Speakers:
11:55 - 12:15
Jarkko Hautamäki, University of Helsinki, Finland
The Search for Non-Hard Skills – Learning to Learn as a Key Competence – Finnish Framework and Empirical Data
12:15 - 12:35
Cristiano Ciappei, University of Firenze - Fondazione RUI, Italy
Soft Skills to govern action
12:35 - 12:55
Maria Cinque, Luiss University "Guido Carli", Roma – Fondazione RUI, Italy
Comparative analysis on the state of the art of Soft Skill identification and training in Europe and some Third Countries
14:30 - 16:00
Session 2 - HOW TO TEACH AND DEVELOP SOFT SKILLS
Chair Michele Pellerey, Salesian Pontifical University, Rome, Italy
Speakers:
14:30 - 14:50
Manuel Poblete Luiz, Deusto University, Bilbao, Spain
How To Teach And Develop Soft Skills. Evolution of generic skills (Soft Skills) following the declaration of Bologna 1999
14:50 - 15:10
Stefania Mangano, University of Genova, Italy
Soft Skills in Italian Universities: First Results from the CT3 Survey
15:10 - 15:30
Bryce Kingsley, Center for Creative Leadership, Bruxelles, Belgium
Self Awareness and Emotional Intelligence
15:30 - 15:55
Massimo Marcuccio, University of Bologna, Italy
The debate on teaching "soft skills" in higher education: some recent trends
16:20 - 17:30
Session 3 - THE ASSESSMENT AND CERTIFICATION OF SOFT SKILLS
Chair Jarkko Juhana Hautamaki, University of Helsinki, Finland
Speakers:
16:20 - 16:40
Maria Lucia Giovannini, University of Bologna, Italy
Functions and Uses of Soft Skills Assessment in Higher Education: Opportunities and Challenges
16:40 - 17:00
Michele Pellerey, Salesian Pontifical University, Rome, Italy
Assessing soft skills: When, How, Who?
17:00 - 17:20
Raffaele Ferragina, Profexa Consulting, Bologna, Italy
The HR challenge ahead: skills certification as a strategic source of competitive advantage
Conclusions
17:30 - 17:45
Guido Sarchielli, University of Bologna, Italy
17:45
End of the workshop
Thursday 19 November 2015
10:00 - 10:25
Introduction
Gabriele Morandin, University of Bologna, Italy
From University to Enterprise
10:30 - 13:00
Session 4 - SOFT SKILLS: THE EMPLOYMENT BRIDGE
Chair Marco Depolo, University of Bologna, Italy
Speakers:
10:30 - 10:50
Beatrice Van der Heijden, Radboud University, Nijmegen, The Netherlands
Towards Sustainable Employability by Responsible Career Management Strategies
10:50 - 11:10
Markku Jokisaari, University of Turku, Finland
A good start in a new job: The role of organizational socialization
11:10 - 11:30
Ornella Chinotti, CEB, SHL Talent Measurement, Roma, Italy
Hiring and Inspiring Graduates in the New Work Environment
11:30 - 11:50
Dina Guglielmi, University of Bologna, Italy
Employability: competences to manage boundaryless careers
11:50 - 12:10
Maria Grazia D'Angelo, Aster, Bologna, Italy
Soft Skills for Innovation
12:10 - 12:30
Filippo Ferrari, University of Bologna, Consultant, Italy
Tackling skill mismatch in a local labour market
14:30 - 16:00
Session 5 - THE IMPORTANCE AND DEVELOPMENT OF SOFT SKILLS WITHIN ENTERPRISES
Chair Marco De Candido, AlmaLaurea, Bologna, Italy
Speakers:
14:30 - 14:50
Rocco Bonomo, ENEL, Roma, Italy
Soft Skills and organizational citizenship: a duo to make the change
14:50 - 15:10
Ida Sirolli, Telecom, Italy
Enabling for success in the Workplace: Telecom Italia's experience
15:10 - 15:30
Alessandro Alberani, CISL, Bologna, Italy
The impact of Soft Skills on the paths and careers of employees
15:30 - 15:50
Cesare Genesio Alessandro Grisi, University of Bologna, Lee Hecht Harrison DBM, Italy
Soft Skills: a close link between enterprise and ethics
16:00
Coffee break
16:20 - 17:45
FINAL ROUND TABLE DISCUSSION
Chair Barbara Cimatti, Institute of Advanced Studies, University of Bologna, It
Speakers:
Sydney Engelberg
Jarkko Hautamäki
Manuel Poblete Luiz
Giunio Luzzatto
Bryce Kingsley
Michele Pellerey
Beatrice Van der Heijden
Markku Jokisaari
Rocco Bonomo
Conclusions
17:45 - 18:00
Guido Sarchielli, University of Bologna, Italy
18:00
End of the workshop
PARTICIPANTS
INTERNATIONAL UNIVERSITIES
Hebrew University, Jerusalem, Israel
University of Helsinki, Finland
Deusto University, Spain
Radboud University, Nijmegen, The Netherlands
University of Turku, Finland
INTERNATIONAL ORGANIZATIONS
Center for Creative Leadership, Bruxelles
ITALIAN UNIVERSITIES
Università di Bologna
Università di Firenze
Luiss Università "Guido Carli", Roma
Università di Genova
Università Pontificia Salesiana Roma
ITALIAN ORGANIZATIONS
Fondazione RUI
ASTER – Regione Emilia Romagna
CISL
ITALIAN ENTERPRISES
Profexa Consulting, Bologna
ENEL
TELECOM Italia
CEB, SHL Talent Measurement
Lee Hecht Harrison DBM (Adecco Group)