30 years of Erasmus: experience abroad is a plus for finding a job
The percentage of graduates who participate in study abroad programmes is growing, but according to AlmaLaurea the socio-economic conditions of the family of origin are still an obstacle.
24 August 2017
International experiences enhance the education of youth and facilitate employment: Erasmus, the international mobility programme of the European Union, has just celebrated its 30th year, and its value has been confirmed by AlmaLaurea data showing how such international experiences allow graduates to increase their chance of finding jobs by up to 12%. In 2016, 15 master graduates out of 100 participated in study abroad with Erasmus or another European Union programme. Among master students the level of participation in study abroad experiences is approaching the 2020 target of 20% set at a European level.
The surveys of the interuniversity consortium show how the proportion of graduates who choose to carry out a period of study abroad with an Erasmus programme or another European Union programme is constantly increasing: 6% in 2006, 8% among 2016 graduates. The most popular destination is Spain, chosen by 30% of those who travelled abroad, followed by France, Germany and the United Kingdom.
2016 graduates with a study abroad experience
with Erasmus or other European Union programme: Country of study
(percentages)
Who are the graduates who choose to embark on an Erasmus experience?
The 19th AlmaLaurea graduate report sketches their profile. From the Survey, it emerges that for graduates of the "3+2" programme the choice to participate in an Erasmus course is more frequent during the two-year master than in the first level.
Among the first-level graduates the experience of studying abroad with Erasmus or a similar European Union programme involved 6% of students.
For the single-cycle degree courses about 13% of graduates travelled abroad for a part of their studies. Among 2016 two-year masters graduates the total was 11%, and 4% did not participate in Erasmus programmes during the two-year period but had done so during the first level.
The choice of whether or not to participate in an Erasmus experience is closely bound to the discipline: studying abroad is frequent among students in the language area ("only" 22 graduates out of 100), while in all other disciplinary groups, apart from medicine and dentistry (16%), architecture (13%), legal and political-social (both 10%), fewer than 10% of graduates study outside of Italy. Least likely to study abroad are graduates of health professions and teaching (both 2%) and physical education (3%).
2016 graduates: study abroad experience
with Erasmus or other European Union programme by discipline
(percentages)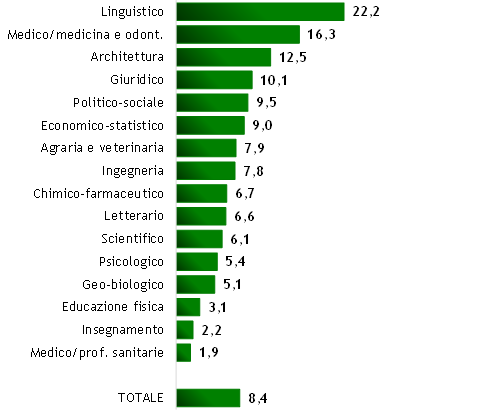 Also influencing the popularity of these experiences is the geographic location of the university. Of the 71 universities involved in the survey, those in northeastern Italy generally have a higher percentage of graduates with study abroad experience (11%). Conversely, for southern Italy and the islands these percentages are equal to 6% and 7%, respectively.
The socio-economic condition of the family of origin.
Still today the socio-economic condition of the family of origin is a selective factor in gaining access to study abroad.
Of the graduates who have completed this experience, 14% have parents who both earned a university degree and 5% are children of parents who did not complete high school. Social class also plays an important role. For families of lower social classes living abroad is often seen as a costly burden that Erasmus or other sources of funding cannot sufficiently offset. In fact, of graduates who have completed a foreign study experience with Erasmus or another European Union programme, 11% are from upper social classes and only 6% from less advantaged families.
Lastly, pre-university studies, diploma type and final high school marks, all else being equal, affect the probability of participating in an Erasmus programme: those who have earned higher marks in high school are more likely to have a period of study abroad while at the university. For example, study experiences abroad with Erasmus or another European Union programme are more common among those who have a high school diploma (10%) than those who graduated from a vocational (6%) or professional (4%) secondary school.