Graduates' Employment Conditions
This report of AlmaLaurea is the result of the monitoring of graduates' access to the labour market within the 5 years after graduation. It is a very important tool for evaluating the effectiveness of the academic system and for assessing the attitude of the labour market towards graduates.
20th Survey (2018) - Graduates' Employment Conditions
The 20th Survey on Graduates' Employment Conditions has involved overall more than 630,000 graduates from 74 Universities. The Survey refers to 270,000 2016 post reform first and second level graduates interviewed at one year from graduation; all the 2014 second level graduates (110,000) interviewed at three years from the achievement of the degree and all the 2012 second level graduates (108,000) investigated at five years from the completion of their studies. Finally, two specific investigations, usually run by AlmaLaurea, have focused on the first-level graduates of 2014 and 2012 that did not continue their university studies (80,000 and 68,000), interviewed respectively at three and five years after graduation.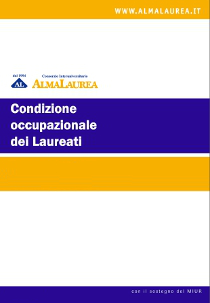 The profile on graduates' employment condition is divided into 10 sections:
Surveyed group
Postgraduate training
Employment condition
Access to the labour market
Characteristics of the current job
Characteristics of the company
Earnings
Use and need for a degree within the current job
Degree effectiveness and satisfaction for the current job
Search for a job