Acts
The AlmaLaurea Interuniversity Consortium presents its 2019 Reports on the Profile and Occupational Condition of Graduates in Italy (21st edition) for the Conference "University and Labour Market" at the Sapienza University of Rome on Thursday, 6 June 2019. The surveys involved graduates from 75 universities belonging to the Consortium.
The AlmaLaurea Report on the Profile of Graduates analysed the educational performance of over 280,000 graduates in 2018: 160,000 first-level graduates, 82,000 two-year masters and 37,000 single-cycle masters.
The AlmaLaurea Report on Occupational Condition analysed about 640,000 first- and second-level graduates in 2017, 2015 and 2013 contacted respectively one, three and five years after graduation.
---
Watch the videos (italian)
---
Programme
8.45
Registration
OFFICIAL WELCOME AND OPENING REMARKS
9.00 am - 10.00 am
Eugenio Gaudio (Rector of Sapienza University of Rome)
Gaetano Manfredi (Rector of the University of Naples Federico II, President CRUI)
Ivano Dionigi (President of AlmaLaurea)
Message from the Minister of Education, University and Research, Marco Bussetti
FIRST SESSION
10.00 am - 10.45 am
PRESENTATION OF THE 21ST SURVEYS ON THE PROFILE AND OCCUPATIONAL CONDITION OF GRADUATES IN ITALY: MAIN RESULTS AND FOCUS ON COURSES OF STUDIES AND PROFESSIONS
Marina Timoteo (University of Bologna, Director of AlmaLaurea)
1st ROUND TABLE
11.00 am - 12.30 pm
TOWARDS A EUROPEAN UNIVERSITY MODEL: THE DIMENSION OF UNIVERSITY PLACEMENT
Career guidance and placement issues are discussed in a European dimension, within the framework of strengthening the idea of Europe as a real prospect and development opportunity for Italian and European universities. Civis: European Civic University Alliance.
Moderator: Luciano Saso (Sapienza University of Rome)
Speakers:
Lucia Vennarini (University of Tübingen)
Thierry Berthet (Aix-Marseille University)
Jeanette Nordström (Stockholm University)
Claudia Girotti (AlmaLaurea)
Davide Cristofori (AlmaLaurea)
12.45 pm - 2.00 pm
LUNCH
SECOND SESSION
2nd ROUND TABLE
2.00 pm - 3.30 pm
TOWARDS NEW CONNECTIONS BETWEEN UNIVERSITY AND INDUSTRY: THE ITALIAN UNIVERSITY AND THE INTERNATIONAL SCENARIO
Moderator: Gilberto Antonelli (AlmaLaurea)
Speakers:
Federico Antonelli (Italian Embassy in Beijing)
Sungsup Ra (Human and Social Development Division, Asian Development Bank)
Boike Rehbein (Humboldt University, Berlin)
Riccardo Leoncini (University of Bologna)
Adrio Maria de Carolis (Swg S.p.A.)
Gilberto Antonelli (AlmaLaurea)
3rd ROUND TABLE
3.30 pm - 5.00 pm
GUIDANCE STRATEGIES AND MAINTENANCE OF EDUCATIONAL CURRICULA TO BOOST GRADUATES' EMPLOYMENT SUCCESS
The AlmaLaurea Strategic Scientific Committee will present the data collected on career guidance and degree effectiveness.
Moderator: Emiliano Mandrone (Istat)
Speakers:
Tiziana Pascucci (Sapienza University of Rome)
Giuseppe Cirino (University of Naples Federico II)
Francesco Ferrante (University of Cassino)
Ornella Giambalvo (University of Palermo)
Silvia Ghiselli (AlmaLaurea)
CONCLUSIONS
5.00 pm - 5.30 pm
Giuseppe Valditara (Head of the Department for Higher Education and Research, MIUR)
Conference Languages: Italian and English with simultaneous interpretation
---
Sign up
Le registrazioni online sono state chiuse, sarà comunque possibile iscriversi in sede congressuale.
---
Venue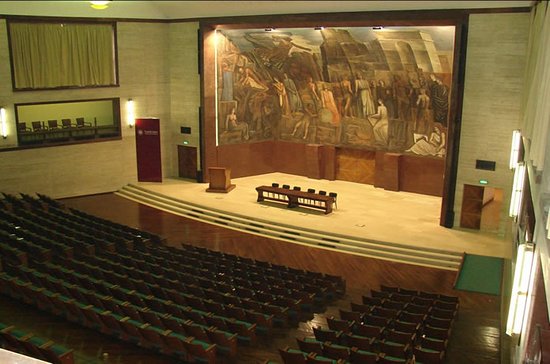 Sapienza University of Rome
Aula Magna
Piazzale Aldo Moro, 5
00185 Roma
How to get to the conference venue
By train and by bus
FROM TERMINI STATION
The venue is within walking distance (15 min).
You may also use the underground to reach the venue: take Metro B and get off at Policlinico.
FROM TIBURTINA STATION
You may use the bud to reach the venue: take bus 492 or 71 and get off at Verano/De Lollis.
You may use the underground to reach the venue: take Metro B and get off at Policlinico.
By plane
From Fiumicino "Leonardo da Vinci" airport tel.+39 06 65951
You can take the "Leonardo Express" direct train from Fiumicino Airport to Termini Station. The train takes 32 minutes and runs every 30 minutes (from 6:23 to 23:23).
From Ciampino airport
You can get the coach TERRAVISION SHUTTLE from Roma Ciampino Airport to Roma Termini Railway Station (and back).
Radio Taxi: 06-3570
Pronto Taxi: 06-6645
Altre compagnie: 06-5551, 06-4994, 06-4157
---
Contacts
---
Browse gallery